Our Staff Continues to Service Clients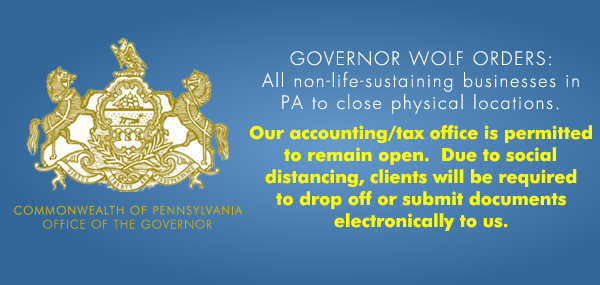 UPDATE 3/20/20 4:50pm: US Treasury Department Secretary automatically extends 2019 Individual Federal tax return due date and payment due date to July 15, 2020.  Anyone expecting a federal refund should still file as soon as possible to receive it.
---
By order of Governor Tom Wolf, all non-life-sustaining businesses in PA are to close physical locations and all employees are working from home.  Our accounting/tax office is permitted to remain open. Michael P. Rudy & Associates staff will continue to service our clients. Due to social distancing, our clients will be required to drop off or submit documents electronically to us.
All tax clients may drop off their 2019 tax information in our office using our drop box or they may upload all information using the secure "Client Document Submission" feature on our website.
For drop offs: Gather all applicable tax information, put it in secure, sealed envelope with your name, cell phone number, email address and appointment date/time (if applicable) and place it in our drop box on the right side of our building.  We will call or email you once your information is reviewed.
Thank you and be safe!
03.19.2020-GOV-ORDER-COVID-business-closure